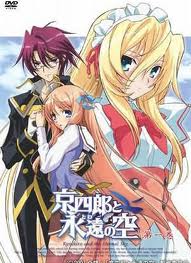 Welcome to Shattered Angels Wiki
Edit
Welcome to Shattered Angels Wiki (Kyōshirō to Towa no Sora). This Wikia is about the Japanese Anime and Manga series, Kyōshirō to Towa no Sora. Feel free to browse through this wikia for more information. Also, please visit this Wikia and help us grow by contributing! If you see any pages blank or any stub articles, feel free to edit. You can also help contribute by creating new pages and adding photos. Remember, ANYONE and EVERYONE can edit this wiki and do not hesitate! We really hope you would enjoy browsing through this wiki. Your help would also be greatly appreciated. Thank You and enjoy! This wiki currently has - articles and - photos.
Shattered Angels revolves around the life of Kū Shiratori, a seemingly typical high school girl, who enjoys school life in the giant city of Academia. Academia is viewed as a symbol of recovery for humanity, since already ten years have passed since the greatest disaster mankind had ever seen occurred; 'The Seven Days of Hot Snow'. Kū has found herself having a recurring dream where she meets a prince that takes her away. One day, while all the students at her school are preparing for the upcoming school festival, a man resembling the prince whom she has met several times in her dreams appears, introduced to her entire class as an exchange student. The 'prince', whose name is Kyoshiro Ayanokōji, requests of her just as the prince had done in Kū's dreams: "Let's go... Together."
The Kyoshiro to Towa no Sora manga, created by Kaishaku, was first serialized in the Japanese magazine Monthly Dragon Age in May 2006, published by Fujimi Shobo, until July 2007. Currently, all three volumes have been released in Japan, the last which came out on August 9, 2007.
Internet Radio
Edit
Kyoshiro to Towa no Sora has an internet radio program named RADIO Kyoshiro (RADIO京四郎) running on i-revo TE-A room since August 30, 2006. The hosts are Noriko Shitaya (Himiko) and Junji Majima (Jin Ōgami), who also hosted RADIO Kannazuki (RADIO神無月) back when Kannazuki no Miko was running.
The anime aired in Japan between January 5 and March 23, 2007, containing twelve episodes. The series was licensed by ADV Films, but the license was transferred over to Funimation Entertainment in July 2008 who released the whole series on February 24, 2009.
Latest activity
Edit
Shattered Angels Wiki
edited by EnigmaLycanwolf

Summary:
‎

Story:

changed 'normal' to "typical"

Kyoshiro Ayanokōji
edited by A FANDOM user